Nowadays is more and more common to find fun cupcake recipes...I have a few parties coming up and I will def use this recipe more than once this Summer!!
It's great for all ages, but will def set the tone for cocktail parties with your friends
!!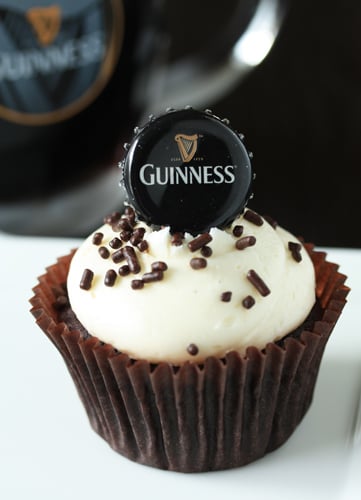 *Guinness Cupcakes*
adapted from Dave Lieberman
*Ingredients*
1 (12-ounce) bottle Guinness Stout
1/2 cup milk
1/2 cup vegetable oil
1 tablespoon pure vanilla extract
3 large eggs
3/4 cup sour cream
3/4 cup unsweetened cocoa (I used Scharffen Berger Cocoa)
2 cups sugar
2 1/2 cups all-purpose flour
1 1/2 teaspoons baking soda
*Method*
1. Preheat the oven to 350°F.
2. In a large mixing bowl, combine the Guinness, milk, vegetable oil, and vanilla. Beat in the eggs, one at a time. Mix in the sour cream.
3. In a large mixing bowl, whisk together the cocoa, sugar, flour, and baking soda. Gradually mix the dry ingredients into the wet Guinness mixture.
4. Butter 24 muffin tins and divide the batter among the muffin tins.
5. Bake 25 minutes, until risen and set in the middle but still soft and tender. Cool before turning out of the tins.
*Vanilla Bean Buttercream*
1 stick salted butter – room temperature
1 stick unsalted butter – room temperature
1/2 cup shortening
1 tablespoon Clear Vanilla extract
1 1/2 pounds confectioner's sugar (powdered sugar, 10x)
4 tablespoons very cold milk
*Directions*
Cream the butter and shortening in the bowl of an electric or stand mixer. Add the clear vanilla extract and combine well. Begin adding in the sugar and mixing thoroughly after each addition. After all of the sugar has been added and mixed thoroughly, begin adding the very cold milk… one tablespoon at a time, combining very well after each addition (mixer on medium-high to high speed) until you reach the desired consistency.
source from My Baking Addiction